Industrial Photography
Author: Gaurav Birla
August 27, 2010
No Comments
Industrial photography can be defined as a photographic practice that takes place within an industrial organization, to record production process, product, work organization or the layout, equipment or the culture of a company. The photographs may be used for internal purposes. For example, administrative or industrial relations or they can also be used for external purposes like advertising or public relations. Sometimes the pictures are taken by the people inside the company and sometimes people from outside are hired to do the same thing.
History and evolution of industrial photography
The use of photography for documenting industrial activity and different products begin in mid of 19th century. As the industrialization started, some of the companies started employing their own photographers, and some started hiring photographers from outside. Mainly the companies that were involved in mining, shipping and railways were the first ones to use industrial photography for documentation purposes. Industrial photography cannot be linked to a particular aesthetic or function. There is lot of different mediums involved in the same, Such as portrait photography, journalism, architectural photography, product photography, studio photography for advertising. All these combined give whatever is required for a client looking for industrial photography. It is only around the early 20th century that industrial photography was done with a sense of artistic creativity and applied science.
Partly industrial photography course not directly focused on an individual worker, but on the links, the factories, the plant and the workforce as a group. Although it involves photographing people, but people were a part of these photographs primarily as a part of the production process with the emphasis on their function rather than individuality. From the early years of industrial photography the most highlighted objects or photographs are of the construction of locomotives and building of a railway lines with their tunnels and bridges. Special mention for well-documented industrial photography was the creation of the first US transcontinental railway, completed at Utah in 1869; these photographs are among the most frequently reproduced examples of classic industrial photography. Although not very popular but another spectacular subject was done nearly finished Paranagua-Curityba line in Brazil in 1879, and images of railway construction in British India. Another very comprehensively photographed project included the building of Suez and Panama canals, and the Forth Bridge in Scotland.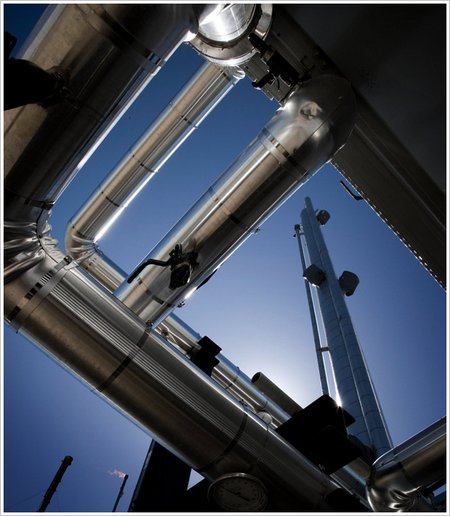 During the early years of industrial photography the digital technology was not present, and the photographic equipment was also not this advanced. So it was definitely a challenge to photograph most of the industrial subjects. Simply because of lack of proper shooting conditions on most of industrial sites. A special case was mining photography, because of lighting problems and the environment in which the photographers had to work. Electronic lighting was not present and there was a serious danger involved in using lamps which were available in those days, especially in coal mines. This led to the fact that earlier mining photographs are mainly from either no exception. The photography of coal mines was possible only later after a lot of advancements had been made in photography as well as lighting equipment's. Due to the nature of the environments, that these narrow spaces, narrow and long shafts and trolley tracks etc, it was not possible to photograph a larger area to show the work process. So most of the photographs from that industry depict single workers focusing on their work rather than a lot of workers working together.
Talking about product photography, the albums of product photographs were already in use as advertising material in the 19th century. The railway wagons were already a photographed product as early as 1858. Even till early 19th century the photographs showing induction processes and work routines were not available due to the lack in technology. The equipment which had been developed was not sensitive enough for the lighting conditions that were available at the industrial sites. So the only way of taking these photographs was to stage work process. The beginning of 20th-century saw the photographs of events like ship launches, inauguration or demolition of buildings and machines, celebration of various festivals etc. It is only two decade later that products were seen on photographs which was a result of professionalization of advertising. By the mid of 20th-century the photographic method already been developed to such an extent that all kind of photographs were possible, those including low lighting conditions also. After the development of films which were highly light-sensitive, there was no looking back. The photographers, more powerful than ever shot in all kinds of environment, industries and all kind of subjects, almost removing the borderline between photojournalism, architecture photography and industrial photography. Everything from work processes, products, key employees and workers were already a subject to a lot of photographs. Industrial photography has already played a very significant role in the industrial revolution. And to this day it has been continuously developing.
Tags: black and white, classic photographs, evolution, history, industrial photography
Specialized Photography